..
ED NOTE: With the outbreak of Coronavirus, families have been isolated from each other. Some are mourning the loss of their loved ones, or praying for those in need who are without the love and support offered by the physical presence of family and friends. Millions also worry about becoming sick, about losing their livelihoods, homes and savings. Amid this fear and sadness, there is a universal message relevant to these unprecedented times, regardless of whether one believes in a higher power or not. It is a message of hope and solidarity we share with our fellow human beings.
.
We see it in the actions of all those in essential services who are putting their lives on the line for others during the COVID-19 crisis, and in every act of kindness from one another in these troubling times. All of them are demonstrating the universal message of the world's great religions, that is the basis of all human decency and kindness - to treat others as we would want to be treated ourselves. It's the message found in the words of Jesus from Matthew 7:12: "In everything, do to others as you would have them do to you; for this is the law and the prophets."

Even in the middle of the COVID-19 pandemic, we are not powerless. We can comfort the sick and their families, even if we cannot be with them. We can donate to charity according to our means. We can look out for one another. We can be messengers of hope, even in the darkest hours.

May all of our readers and their loved ones stay safe and healthy! I hope you enjoy enjoy this issue and I hope it brings you some information, some joy, and some laughter. There is a light at the end of this tunnel.

God bless you and yours! -Kelly & Margaret
DATELINE: HUDSONVILLE, MICHIGAN
Mike and Karen McCarty occasionally interrupted their stay-at-home regimen in March and April with walks around the condo neighborhoods and at two area parks. At Saugatuck Dunes State Park, they met up with Ryan and Missy's family and all practiced social distancing on the beach. And the day before Easter, Karen and Mike took money-filled plastic eggs and hid them for Mia, Luke, Brayden, Natalie and Henry to find in their yards. At home, Karen sewed masks for the family, Mike played guitar, they had Shipt deliver a couple of grocery orders, and they kept in touch with the family on Zoom. Mike also played long-distance Monopoly via Face Time with Marylanders Andy and Max. The Michigander won, thanks to Boardwalk and Park Place hotels.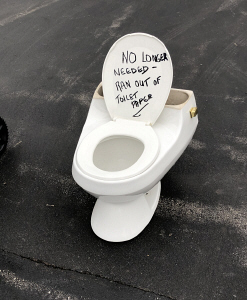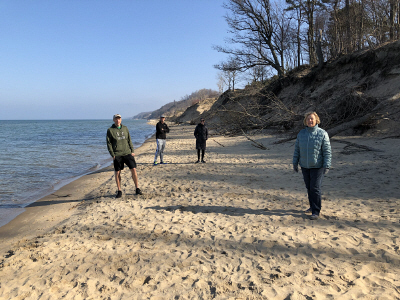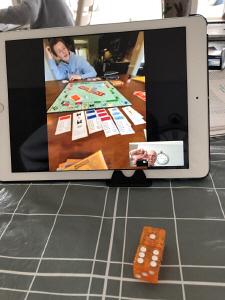 A Sight On Our Daily Walk - Some Social Distance Beach Time - Virtual Face Time Monopoly With MD Grandkids
.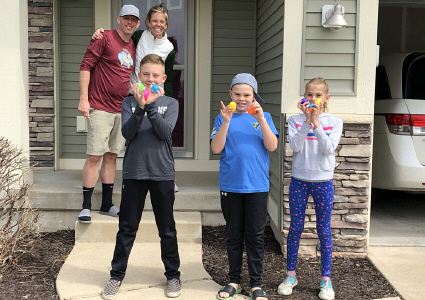 Grandkids Found The Hidden Eggs
.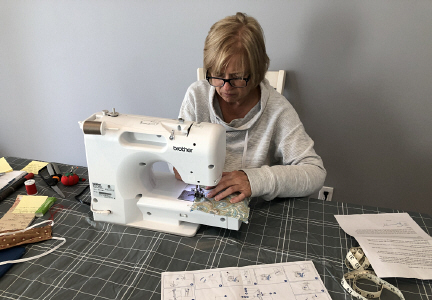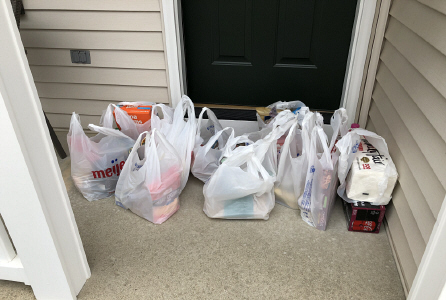 Karen Making Masks - Getting Groceries Shipped
DATELINE: MY QUARANTINE DIARY
Being a good citizen and following President Trumps '15 Days To Stop The Spread', I started a diary to recap my days in quarantine. Here's my entries.

Day 1 – Dear Diary. I Can Do This!! Got enough food and wine to last a month!
Day 2 – Dear Diary. Opening my 8th bottle of Wine. I fear wine supplies might not last!
Day 3 – Dear Diary. Strawberries: Some have 210 seeds, some have 235 seeds. Who Knew??
Day 4 – 8:00pm. Dear Diary. Removed my Day Pajamas and put on my Night Pajamas.
Day 5 – Dear Diary. Today, I tried to make Hand Sanitizer. It came out as Jello Shots!!
Day 6 – Dear Diary. I get to take the Garbage out. I'm So excited, I can't decide what to wear.
Day 7 – Dear Diary. Laughing way too much at my own jokes!!
Day 8 – Dear Diary. Went to a new restaurant called "The Kitchen". You have to gather all the ingredients and make your own meal. I have No clue how this place is still in business.
Day 9 – Dear Diary. I put liquor bottles in every room. Tonight, I'm getting all dressed up and going Bar hopping.
Day 10 –Dear Diary. Struck up a conversation with a Spider today. Seems nice. He's a Web Designer.
Day 11 – Dear Diary. Isolation is hard. I swear my fridge just said, "What the hell do you want now?"
Day 12 – Dear Diary. I realized why dogs get so excited about something moving outside, going for walks or car rides. I think I just barked at a squirrel.
Day 13 – Dear Diary. If you keep a glass of wine in each hand, you can't accidentally touch your face.
Day 14 – Dear Diary. Watched the birds fight over a worm. The Cardinals lead the Blue Jays 3–1.
Day 15 – Dear Diary. Anybody else feel like they've cooked dinner about 395 times this month?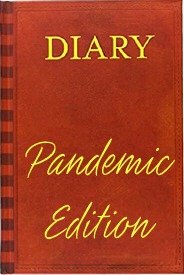 DATELINE: WALMART PERSONAL PROTECTIVE EQUIPMENT
Going out to stores to pick up essential needs for the family during a pandemic can be trying and down right scary. Only the brave should attempt this. Just to show the ingenuity and creativity of Walmart shoppers, here are just a few of the personal protective equipment they were able to conjure up to keep safe.
DATELINE: METRO OFFICES

Being a responsible editor of a major family publication, I thought it would be best if I got tested for the Coronavirus before I even think about letting my writers back in the office. I just got the results back and thank God... I don't have the Covid-19. Writers and Metro staff are welcome back!

DATELINE: MY NEW BUSINESS

I got a great business idea during this quarantine. I am going to run a beer truck and drive around the neighborhood playing German music and selling beer. All the parents will run out excitedly with money and wait for me. It's like an ice cream truck, but with BEER! Cold... Delicious... BEER!
.
CORONAVIRUS (COVID-19) - IMPORTANT INFORMATION FROM THE CDC

.
Know How it Spreads

•There is currently no vaccine to prevent coronavirus disease 2019 (COVID-19).
•The best way to prevent illness is to avoid being exposed to this virus.
•The virus is thought to spread mainly from person-to-person. Between people who are in close contact with one another (within about 6 feet).
..........◦Through respiratory droplets produced when an infected person coughs, sneezes or talks.
..........◦These droplets can land in the mouths or noses of people who are nearby or possibly be inhaled into the lungs.
..........◦Some recent studies have suggested that COVID-19 may be spread by people who are not showing symptoms.

Everyone Should Wash Your Hands

Clean your hands often

•Wash your hands often with soap and water for at least 20 seconds especially after you have been in a public place, or after blowing your nose, coughing, or sneezing.
•If soap and water are not readily available, use a hand sanitizer that contains at least 60% alcohol. Cover all surfaces of your hands and rub them together until they feel dry.
•Avoid touching your eyes, nose, and mouth with unwashed hands.
.

Everyone Should Quarantine

•Avoid close contact with people who are sick
•Stay home as much as possible
•Put distance between yourself and other people.
..........◦Remember that some people without symptoms may be able to spread virus.
..........◦Keeping distance from others is especially important for people who are at higher risk of getting very sick.

Cover your mouth and nose with a cloth face cover when around others

•You could spread COVID-19 to others even if you do not feel sick.
•Everyone should wear a cloth face cover when they have to go out in public, for example to the grocery store or to pick up other necessities.
..........◦Cloth face coverings should NOT be placed on young children under age 2, anyone who has trouble breathing, or is unconscious, incapacitated or otherwise .......... unable to remove the mask without assistance.
•The cloth face cover is meant to protect other people in case you are infected.
•Do NOT use a facemask meant for a healthcare worker.
•Continue to keep about 6 feet between yourself and others. The cloth face cover is not a substitute for social distancing.
.

Everyone Should Cover Their Cough

Cover coughs and sneezes

•If you are in a private setting and do not have on your cloth face covering, remember to always cover your mouth and nose with a tissue when you cough or sneeze or use the inside of your elbow.
•Throw used tissues in the trash.
•Immediately wash your hands with soap and water for at least 20 seconds. If soap and water are not readily available, clean your hands with a hand sanitizer that contains at least 60% alcohol.

Everyone Should Clean And Disinfect

•Clean AND disinfect frequently touched surfaces daily. This includes tables, doorknobs, light switches, countertops, handles, desks, phones, keyboards, toilets, faucets, and sinks.

•If surfaces are dirty, clean them: Use detergent or soap and water prior to disinfections.

To disinfect: Most common EPA-registered household disinfectants will work. Use disinfectants appropriate for the surface. Options include...

•Diluting your household bleach. To make a bleach solution, mix: 5 tablespoons (1/3rd cup) bleach per gallon of water OR 4 teaspoons bleach per quart of water. Follow manufacturer's instructions for application and proper ventilation. Check to ensure the product is not past its expiration date. Never mix household bleach with ammonia or any other cleanser. Unexpired household bleach will be effective against coronaviruses when properly diluted.

•Alcohol solutions. Ensure solution has at least 70% alcohol.

•Other common EPA-registered household disinfectants. Products with EPA-approved emerging viral pathogens claims are expected to be effective against COVID-19 based on data for harder to kill viruses. Follow the manufacturer's instructions for all cleaning and disinfectant products.
DATELINE: FRASER, MICHIGAN

Due to the Coronavirus and all the churches closing in Michigan, the 4 churches and 1 synagogue in Fraser finally reopened to find their churches had become infested with squirrels. Each came up with their own plan to take care of it.

The Presbyterian church called a meeting to decide what to do about their squirrel infestation. After much prayer, they concluded that the squirrels were predestined to be there, and they shouldn't interfere with God's divine will.

At the Baptist church the squirrels had taken an interest in the baptistery The deacons met and decided to put a water-slide on the baptistery and let the squirrels drown themselves. The squirrels liked the slide and unfortunately, knew instinctively how to swim, so twice as many squirrels showed up the following week.



.
The Lutheran church decided that they were not in a position to harm any of God's creatures. So, they humanely trapped their squirrels and set them free near the Baptist church. Two weeks later the squirrels were back when the Baptists took down the water-slide.
But the Catholic church came up with a very creative strategy! They baptized all the squirrels and made them members of the church. Now they only see them at Christmas and Easter.
Not much was heard from the Jewish synagogue. They took the first squirrel and circumcised him. They haven't seen a squirrel since....
.
| | | |
| --- | --- | --- |
| | | |

Here are some of the recent travel destinations from our faithful readers.
Due to the travel ban, there were only a couple trips taken prior, and also a couple were taken after. You decide which is which.
.


Austin traveled to Vail, Colorado for some snowboarding


Austin & Kristina had some fun in the sun on the beaches in Cabo, Mexico


Margaret had a very enjoyable trip to the CVS Pharmacy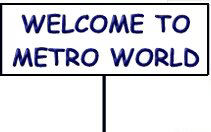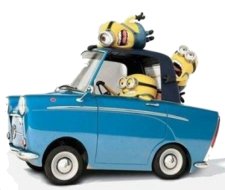 Kelly had an excursion with multiple ports of call including the refrigerator, bathroom, and under the basement steps!
Did you travel for work or vacation? Send us your destination and pictures to mccartymetro@gmail.com
.

Dear Editor: As always another great issue. Thanks for keeping the tradition going! -Gene

ED NOTE: Thanks Gene. I appreciate the compliment. Just a reminder to all of our readers.... I can always use more material and articles. Remember.. Our readers are also our writers and submitters. Stay safe.
Dear Editor: I am so proud of all the doctors and nurses. With the pandemic going on, is there anyway I can help? - Feeling Frustrated
ED NOTE: We just want you to stay home and stay healthy. I know the Red Cross is always looking for blood donors due to shortages, so that might be one way to help. Unfortunately, it didn't go so well for me though. They ask too many questions like who's blood is it? Where did you get it from? Why is it in a bucket?... Well I say... " You know beggars can't be choosy"!
Dear Editor: I am getting tired of not doing anything during the quarantine. I am getting stress out and I'm just looking for any suggestions to keep me busy. -Ken
ED NOTE: Hi Ken... I find the one thing that relieves my stress is my adult coloring book. Below is one of the pictures I colored! I feel better now!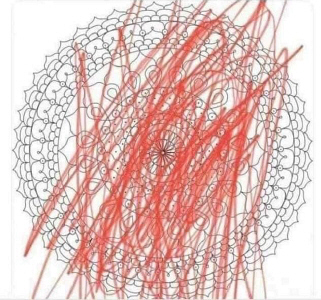 We appreciate our McCarty Metro readers and always want to hear your questions, comments, rants, or editorials.
Just submit them anytime during the month to mccartymetro@gmail.com for inclusion in the next issue.
For those that do not speak the language, Le' Food is French for "The Food"! I would like to encourage our readers to submit their favorite recipes to the McCarty Metro at mccartymetro@gmail.com for inclusion in upcoming issues. This month we have a great treat from Mom's vault of recipes. Bon Appétit!

MOM'S HAMBURGER & NOODLES

With Mother's Day this month, I'm giving you a taste from your childhood. Mom's famous Hamburger & Noodles. This is a delicious family recipe you'll pass down to your kids.

PLEASE NOTE: If you have leftovers, fry up the remaining on the stovetop with butter the next day! Get nicely brown. Any McCarty brother will tell you that's the best!

INGREDIENTS

1 lb ground beef (hamburger)
1 box of elbow macaroni
1 can Campbell's Condensed Tomato Soup
(plenty of) Salt and pepper to taste




DIRECTIONS:

In a pot, boil the elbow macaroni for 8 minutes. Strain and return noodles into the pot. Cook the ground beef in a fry pan. Once browned, drain the fat, and add the hamburger to the noodles. Stir in 1 can of Campbell's Condensed Tomato Soup. Add salt & pepper!


You can submit videos by sending it to me, send me a link, or uploading to YouTube and sending me the info to mccartymetro@gmail.com
.
Bad Bad Covid-19

Mike sings a song about the Covid-19 virus
(sung to Bad Bad Leroy Brown)

---
Online Learning Song

A music teacher sings her heart out
about the transition to online learning.

---
Easter Egg Hunt

No kids over during a quarantine?
No problem! Gina solves this issue.
Musical Accidents?

Ever wonder how some of the great songs and videos were inspired? It was accidental. Here's some.
M.A.S.H And Covid-19

Here are some strategies from the folks
at the 4077th MASH unit in Korea
PLEASE PRAY FOR OUR METRO FAMILY AND FRIENDS
GONE BUT NOT FORGOTTEN - THOSE WHO HAVE PASSED AWAY SINCE THE LAST ISSUE












James Lipton, 93, actor (Arrested Development), writer and television host (Inside the Actors Studio), bladder cancer. Henri Richard, 84, Hall of Fame ice hockey player (Montreal Canadians), eleven-time Stanley Cup champion. Lyle Waggoner, 84, actor (The Carol Burnett Show, Wonder Woman, Love Me Deadly). Kenny Rogers, 81, Hall of Fame singer ("The Gambler", "Just Dropped In", "Islands in the Stream"), songwriter and actor. Curly Neal, 77, basketball player (Harlem Globetrotters). Tom Dempsey, 73, football player (New Orleans Saints) had record for longest field goal (vs. Detroit), COVID-19. Forrest Compton, 94, actor (The Edge of Night; Gomer Pyle, U.S.M.C.; The F.B.I.), COVID-19. Al Kaline, 85, American Hall of Fame baseball player (Detroit Tigers). John Prine, 73, singer-songwriter ("Sam Stone", "Angel from Montgomery"), Grammy winner (1992, 2006), COVID-19. Linda Tripp, 70, civil servant and whistleblower (Clinton–Lewinsky scandal), pancreatic cancer. Pat Stapleton (no photo), 79, ice hockey player (Chicago Blackhawks, Boston Bruins), stroke. Mort Drucker (no photo), 91, caricaturist and comics artist (Mad). Brian Dennehy, 81, actor (First Blood, Tommy Boy), Tony winner (1999, 2003). Howard Finkel, 69, Hall of Fame professional wrestling ring announcer (WWE). Robin Seymour, 94, disc jockey (CKLW, WKNR) and television host (Swingin' Time, Teen Town). Tom Lester, 81, actor (Green Acres, Benji, Petticoat Junction), complications from Parkinson's disease.
DATELINE: SAMSUNG PHONE OWNERS

A warning to all Samsung users... To the right is a photo of Sergio Bennett of Fraser, Michigan, who was the latest victim of a Samsung Galaxy phone. The phone did not explode, but his wife did discover his password.

YOUR DATELINE NEWS WILL RETURN IN JULY