.
DATELINE: McCARTY METRO FILM CONTEST

The 2014 McCarty Metro Film Project has completed. Readers and non-readers were given 30 days to complete a 4 minute or less film and submit it by June 30. Since all 8 videos were outstanding, and impossible for your editor to choose a winner, I am leaving it up to our readers to watch and select the winner. Below is your voting ballot. You can vote as many times as you wish between now and August 31.

| | |
| --- | --- |
| VIEW THE ENTRIES... | |
DATELINE: LAS VEGAS, NEVADA
Kelly & Margaret took an early trip celebrating their 30th wedding anniversary to Las Vegas. While in Vegas, the couple took in some shows, saw the sites, and even (go figure) gambled a little. They went to the Improv Theatre in Harrahs where they saw a great show, headlined by Last Comic Standing finalist Rocky Laport. They also had row 2 seats for the Cirque du Soleil version of the Beatles "Love" at the Mirage which was awesome. They also took in the Bee Gees tribute band at the Excaliber. While checking out the sites of Sin City, they went on the largest Ferris Wheel in the world called "The High Roller" where they had a great nighttime view of the city. The couple had a great time, and Margaret even won some money.
| | |
| --- | --- |
| | |
| Walking to the "High Roller" ferris wheel | Kelly, Margaret, and the Australian Bee Gees |
| . | . |
| | |
| Margaret takes a break at the hotel | Kelly inside the Cromwell (formerly Bills, formerly the Barbary Coast |
DATELINE: PLANES, TRAINS & AUTOMOBILES

Here are some of the travel destinations this past month from our readers...

Mike & Karen traveled to Europe to visit Sicily and Croatia
Kelly & Margaret traveled to Las Vegas for their 30th Anniversary trip
Steve traveled to Las Vegas on binness
Jerry traveled to Michigan for binness and pleasure
Are you traveling? Why not send us your destination and pictures. Send them to submit@mccartymetro.com
DATELINE: HUDSONVILLE, MICHIGAN

Luke McCarty made the Grand Rapids TV News. His Hudsonville Little League team was featured. Luke (#13) is shown hitting the ball for a base hit as he runs to first base.

.

DATELINE: GREENFIELD VILLAGE

Brad & Valerie visited Michigan in May. During their visit, the group went to Greenfield Village to enjoy the day. Besides seeing all the sites, Olivia took her first carousel ride.


We want to hear your questions, comments, rants, or editorials. Just submit them to mccartymetro@gmail.com
Dear Editor: I always enjoy reading the McCarty Metro. I just wish I knew the names of the wonderful photos I am looking at. Distant cousins, but who is with who, and who belongs to who? I suppose you could get mixed up as well. lol! I totally enjoyed that photo of you and me in the last issue. So many of my friends commented on it. I do think of you and your famiy and pray for all of you. And your mom still has that wonderful smile. Hugs to all of your family and the rest of the McCarty family - Love, Kitty

ED NOTE: Thanks for the kind words Kitty, and thanks for the pic.
GONE BUT NOT FORGOTTEN - MAY & JUNE 2014












Efrem Zimbalist, Jr., 95, actor (The F.B.I., 77 Sunset Strip). Jimmy Ellis, 74, boxer, WBA heavyweight champion (1968–1970), dementia. Jerry Vale, 83, singer ("Have You Looked into Your Heart") and actor (Goodfellas, Casino). Maya Angelou, 86, American author, poet, and civil rights activist. Ann B. Davis, 88, actress (The Brady Bunch), subdural hematoma from a fall. Don Zimmer, 83, baseball player (Brooklyn Dodgers) and manager (Boston Red Sox, Chicago Cubs), heart failure as a complication from cardiac surgery. Bob Welch, 57, baseball player (Los Angeles Dodgers, Oakland Athletics), Cy Young Award winner (1990). Ruby Dee, 91, Emmy Award-winning actress, Grammy Award-winner, and civil rights activist, National Medal of Arts laureate (1995). Chuck Noll, 82, NFL football player (Cleveland Browns) and Hall of Fame coach (Pittsburgh Steelers), most coached Super Bowl wins (IX, X, XIII, XIV), natural causes. Casey Kasem, 82, radio personality (American Top 40) and voice actor (Shaggy Rogers), Lewy body dementia. Tony Gwynn, 54, Hall of Fame baseball player (San Diego Padres), salivary gland cancer. Steve Rossi, 82, comedian (Allen & Rossi), cancer. Eli Wallach, 98, actor (The Good, the Bad and the Ugly, The Magnificent Seven). Howard Baker, 88, politician and diplomat, Senator for Tennessee (1967–1985), Senate Majority Leader (1981–1985), White House Chief of Staff (1987–1988), complications from a stroke. June25
AND FINALLY... How many of you knew that Christopher Walken was the patron saint of Austria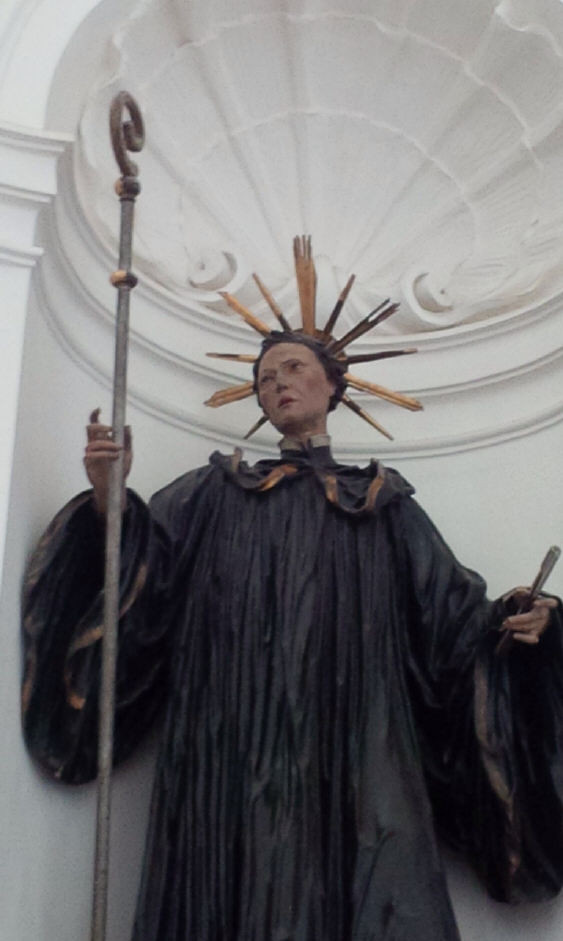 THE McCARTY METRO WILL BE BACK ON YOUR CYBER PORCH IN SEPTEMBER