WHAT'S INSIDE IF YOU KEEP ON READING...

How many letters in the
alphabet do you know?


Check Out Our New
And Used Podcasts


The award winning
Jerry's World


Is your cat a murderer? Make sure on Who Knew
| | |
| --- | --- |
| METRO QUIK PUZZLES - FEELING SMART? | METRO TRIVIA CONTEST |
Rearrange the following letters to form the title of a 1980 movie.

VAMPIRE IN JET BAN
Answer

If you wrote all the numbers from 300 to 400 how many times would you write the digit 3? Answer

What object has keys that open no locks, space but no room, and you can enter but not go in? Answer

What is the difference between a crisp new $10 bill and a dirty old torn one? Answer

Q. What are the Sun, the Independent and the Guardian?


LAST MONTH'S RESULTS

Q. What country has the most natural lakes in the world?

CANADA, EH!

Congrats to: Jerry & John
METRO CAPTION CONTEST
Submit an interesting or funny caption for this picture

Last Month's Captions
.


Hey Kelly - We cleaned out the laundry room cabinet at Mum's house...
Drat, my route is too unwieldy. And these are just the Sunday onlys.
Oh yeah, we will put one of these handbills in every issue of the McCarty Metro
What do I do with all the old carbon paper I found down my basement?

METRO SECRET CELEBRITY
Name Our Secret Celebrity

Last Month's Celebrity Results

.
Jeremy Piven
Congrats to... NO ONE guessed Jeremy
| | |
| --- | --- |
| Jimmy received a parrot for his birthday. The parrot was fully grown, with a very bad attitude and worse vocabulary. Every other word was a swear word; those that weren't cursing were very rude. Jimmy tried to change the bird's attitude by constantly saying polite words, playing soft music; anything he could think of. Nothing worked. He then tried yelling at the bird, but the bird got worse. He shook the bird, and the bird got madder and more rude. Finally, in a moment of desperation, Jimmy put the parrot in the freezer. For a few moments he heard the bird swearing squawking, kicking and screaming and then, suddenly, there was absolute quiet. Jimmy was frightened that he might have actually hurt the bird, and quickly opened the freezer door. The parrot calmly stepped out onto Jimmy's extended arm and said, "I'm sorry that I offended you with my language and my actions, and I ask your forgiveness. I will endeavor to correct my behavior". Jimmy was astounded at the changes in the bird's attitude and was about to ask what had changed him, when the parrot continued, "May I ask what the Chicken did?" | |
THIS MONTH'S SPONSOR - IMITATION VOMIT

OUR McCARTY METRO BUSINESSES
.
VALENCIA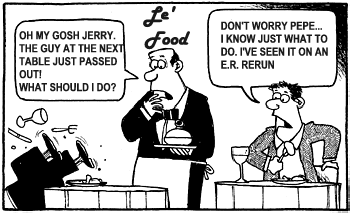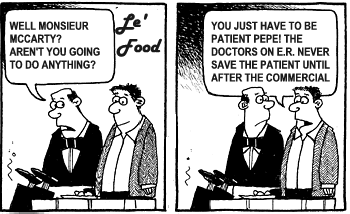 FREE METRO UPDATES
Don't be SHOCKED if one day, you get so bored waiting for the McCarty Metro to come, that you try to find things to do with the butter knife. It is at that exact moment that you realize 2 important things. You are so lucky you made it to 60 years old and...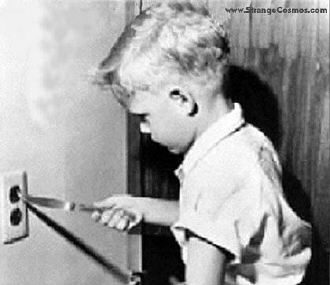 .
YOU'RE IN THE McCARTY METRO
Sign up for free updates below
ED NOTE: All of our Metro writers are also Metro readers. I encourage everyone to submit your work to reply@mccartymetro.com and get published.

EDITOR: Kelly McCarty

OUR WRITERS & SUBMITTERS: Mike Borelli, Gerry Bufalini, Rick Farmiloe, Austin McCarty, Brad McCarty, Jerry McCarty, Kelly McCarty, Larry McCarty, Margaret McCarty, Mike McCarty, Steve McCarty, Gwenda Perez, Millard Pickney, Amanda Rayman, Bev Rzepka, Denise Sidor