McCARTY METRO TRAVEL PAGE


I took a road trip to Yellowstone with my retiree friend Carol from the post office. We had a lot of fun, and saw many unforgettable sites along the way. Yellowstone was awesome. Here is a day by day run-down of the happenings on our fun and educational car ride to Yellowstone National Park.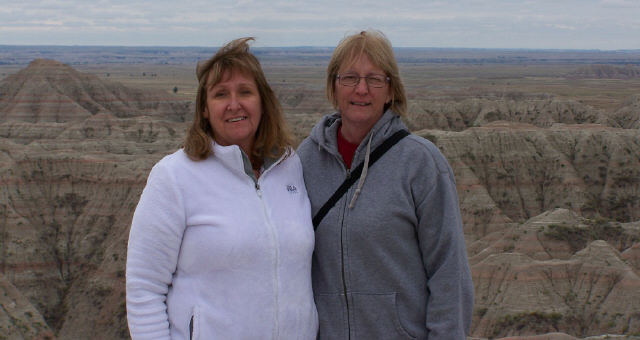 .
September 11

We left my house in Michigan at 8:05am and drove 700 miles. On the car ride, we saw numerous windmills throughout Illinois. We stopped for lunch at Culvers, and had dinner at the Thirsty Belgian in Rochester, MN. Grilled Cheese. YUM!
September 12

Left Rochester and headed to Mitchell, South Dakota and the Badlands on a 12 hour car ride. Enjoyed seeing all the cornfields and windmills while driving Minnesota. Had lunch at Sioux Falls. Visited the Corn Palace and Wall Drugs, and had dinner in Red Rock.
September 13

Spent the day visiting the Badlands. It was awesome! Had lunner (lunch/dinner) at Perkins. Drove to Mt. Rushmore where we walked the night trail. We attended the evening program which was amazing!
September 14

Drove from Custer, South Dakota to Lead, South Dakota. We took the Sanford Lab tour which was very interesting. Had lunch in Deadwood, South Dakota at Mustang Sally's. Not really that impressed. Carol and I then went to Devil's Tower and walked on the trail. We saw about 7 deer. Good Times! We drove until we reached Gilette, Wyoming, where we had dinner at Applebee's and spent the night.
| | | |
| --- | --- | --- |
| | | |
September 15

Continuing on our trip, we drove through the Bighorn National Forest. Kinda scary as we were in a dead zone with no phone and no OnStar. We stopped in Cody, Wyoming and had dinner at Bubba's Barbeque.
September 16

Visited Old Trail Town, which I call the Greenfield Village of the West. Kewl!!! HOORAY!!! WE MADE IT TO YELLOWSTONE! We were staying at the Canyon Lodge which was very nice. We had lunch and dinner at the lodge. They had an ice cream and soda fountain, but no sundaes :-(
September 17

We woke up to the sounds of wildlife. We took our first tour and saw 12 whitetail deer. We also found out not only to look around for black bears, but to also look up as they climb the trees in Yellowstone. We also learned that ravens are smarter than crows, the bison is the largest mammal originating in North America. Saw a lot of them, along with coyotes and a red tailed hawk. Learned the oldest rock is gneiss.

Bison Roaming Around All Over The Place In Yellowstone

We Saw Geysers, Geysers....

...and more Geysers
September 18

Took The "Circle of Fire" tour which included Yellowstone Lake, Yellowstone Falls, and many geysers.
September 19
Headed back to Michigan from our adventure, south to The Grand Tetons. The road to the Tetons had been previously closed due to fire, but had be recently reopened. We went to The Jackson Lake Lodge and saw some moose out by the lake. We had a fabulous time!