DNA FINDS A NEW MCCARTY
.
Recently, Jerry McCarty took the Ancestry.com DNA Test, to find his heritage. Besides his ethnicity, Ancestry.com informed him that he had 2 first cousins that have taken this test. One, Kathleen (McCarty) Unti is the daughter of Uncle Bill. The other was Eugene Skladnowski, a person that Jerry had just found out about.
By talking and comparing notes, Jerry & Gene decided that since he is the 1st Cousin of 2 McCarty cousins, Gene must also be a McCarty by birth. Unfortunately, Gene's adoptive parents passed away, so there are lots of holes in the mystery, but here's what we do know.
Eugene Skladnowski was born in 1950 and adopted at birth. The Skladnowski family that adopted Gene, owned a grocery store on Sobieski Street in Hamtramck. His mother was a secretary at the Hamtramck Citizen newspaper and used to take him on the Street Cars to J.L. Hudsons in downtown Detroit where his Uncle John worked. Gene's life took him from Hamtramck to Mt. Clemens, Arizona, Nevada, California, back to Michigan, and then finally to Connecticut. Gene has been married to his wife Delores for 46 years and has two children (Tricia and James).
Gene's had an interesting life and started using Ancestry.com to document the family tree of his adoptive parents to share with his children and grandchildren. To his surprise, he found out his real roots were with the McCartys. Don't worry, Gene, being a McCarty is not all that bad.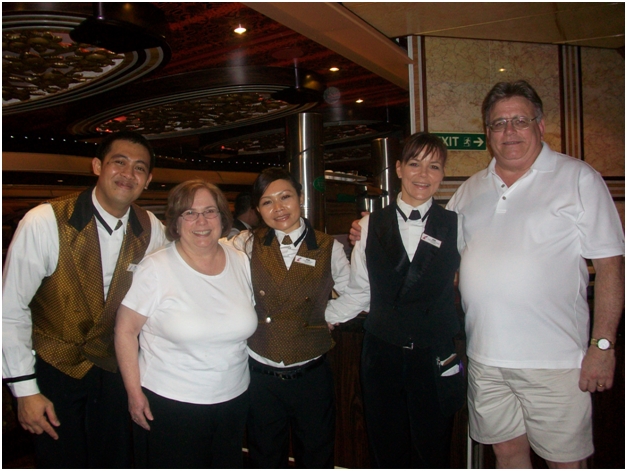 Delores and Gene Skladnowski enjoying a cruise in 2012
Gene is now a subscriber to the McCarty Metro and is interested in finding out more about his lost family. If you have any questions for Gene send them to the McCarty Metro and we will pass them on.