MARCH / APRIL 2009 EDITION
.
| | | |
| --- | --- | --- |
| | | |
| . | | . |
QUIK BRAIN TEEZERS
.

4. Can you tell what word goes in front of all of these words?
.
5. What king can you make if you take the head of a lamb, the middle of a pig, the hind of a buffalo, and the tail of a dragon?
6. There are many words to which you can add the letter "S" to make plural nouns. There are very few that become singular again if you add another s. Can you name two?

TRIVIA
.

There are 11 body parts that have only 3 letters (no slang or profanity allowed Steve!). See who can name the most.

.
LAST MONTH'S TRIVIA ANSWER
.
There is only 1 US president buried in Washington DC.
Who is that President?

Woodrow Wilson

Remember... JFK is buried in Arlington National Cemetery in Virginia

Congratulations to:
THANK YOU TO OUR MARCH CONTRIBUTORS

Mike Borelli, Marie Browski, Gerry Bufalini, Jerry McCarty, Kathlene McCarty
Kelly McCarty, Margaret McCarty, Steve McCarty, Gwenda Perez
Millard, Pickney, Chuck Pottenger, Denise Sidor, Ben Toner, Mike Wiacek
CAPTION CONTEST
Submit an interesting or funny caption for this photo
Last Month's Captions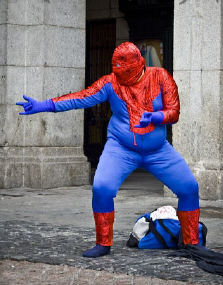 My Spidey sense tells me there is Krispy Kreme close by


It's just a little water weight.


Kelly! It's St. Patrick's Day, not Halloween!


Auditions for Superhero's Biggest Loser


George "The Animal" Steele's New Persona


A retired Spider Man is the newest celebrity on Dancing With The Stars


Thank you for auditioning, sir. If Tobey Maguire gets hit by a car, we'll call you. Don't call us.


Oh my how you've grown Spiderman


Ladies & Gentlemen, Brad Savage after the music career


Is he strong? Listen Bud. He's got Hi-Cholesterol Blood
SECRET CELEBRITY
Can you recognize our secret celebrity?
.
Last Month's Celebrity Was
Simon Cowell

WINNERS?

NOBODY
GOT IT!!!
David Letterman's Top 10 Slogans On A McCarty's Shamrock
.
"Begora I'm Not Wearin' Pants"
"McBeat Me Up!"
"Top of The Mornin' To You Putz".
"Kiss My Big Green Irish Behind"
"The Mailman's Little Leprechaun"
"Just Call Me McLovin"
"Wearin' o' The Green Underwear"
"I'm Irish Today. I'll Be A Nerd Again Tomorrow"
"I'm a Likein The Irish Coffee In The Teachers Lounge"
"Hey Red. Who Peed On Your Head"
.
GUESS THE NATIONALITY
.
OUR NEWEST SPONSOR Get some marbles and you got a present

METRO WEB LYNX


Our Proud Advertisers

Bradric Productions
Lupus Alliance of MI
Knights Of Columbus
Bob & Carl Website
Grace Bible Church
MD Web Solutions
Mid Mark VII
Motor City OX Band
Sonrai Group
Michigan CFO Services
XL Projection Pro
Playmakers Hair Cuts

Poodwaddle is the search engine home page you can customize. Create your own home page with a search engine, dictionary, thesaurus, encyclopedia, maps, calculator, games, and more. Its easy. Simply click Home Page Editor and give it a try. Poodwaddle also provides many free tools.
MAXINE

GET FREE METRO UPDATES

Someday when you least expect it, someone asks you to put on a Cockroach jacket and smile because.....
.

...You're In The McCarty Metro

Add Your Name To Our Email List Below