DATELINE: METRO OFFICES
The McCarty Metro has been a family newsletter for over 40 years. In a deal signed this past month, editor Kelly McCarty is pleased to announce that the Metro is now also a member of the Bradric Productions family. The Los Angeles based Bradric has expanded from being solely a record producing company in the early 1980's, to a multi-media production company in 2006. The Metro joins other Bradric internet holdings as well as their movie, television, stage, voice over, and recording divisions. Kelly McCarty will remain editor of the Metro as well as taking a position with the parent company.

ED NOTE: To our readers... Thank you for your supporting the Metro. I have been editor since October 1992, and this past 13+ years have been a blessing. Bradric executives have kept an eye on our site and like what we do here and wanted to be a part of it. There will be a few changes forthcoming, but all positive. I will still need my readers input and submissions, so please stay involved. Also, bear with me as I settle into my new position at Bradric.
DATELINE TWIN LAKES GOLF & SWIM CLUB
The 11th annual Dan McCarty Golf Classic was held on June 10. It was another sell out, and the weather perfect. I don't know if it was the event, the weather, or the beer talking, but there was a lot of love going around. Check out the DMGC page for more photos, scores, and a wrap-up of this wonderful event.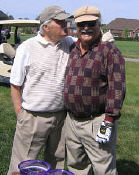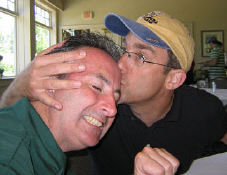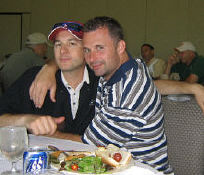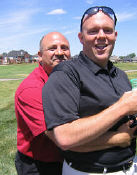 DATELINE: GRAND RAPIDS, MICHIGAN
Andy, Ann, Sam and Max McCarty visited Mike & Karen for a week in June. Here are a couple of pictures. Everybody is fine. (Sam is not really a Bubble Boy, he was just in a thing on the playground.)
DATELINE: TENNESSEE
Josh Storie, a McCarty Metro subscriber, was asked to house sit for his professor and take care of their golden retriever. Josh felt the dog was overheated because it drank a gallon and a half of water so he decide to trim its fur ... with scissors and a hair clippers. Josh says no beer was involved ... but the more he trimmed the worse the dog looked. So he made an appointment for the dog at Petco to have its hair shaved all off to even it out. I asked Josh what he was going to say to the professor when he gets back home and Josh said he didn't know because he would be at the beach on vacation. Check out his full article ... with a complete pictoral.
DATELINE: HOLLYWOOD, CALIFORNIA
Movie Director and Sussex childhood friend Dennis Devine announces the screening of his newest movie "CAREGIVER" on Wednesday July 12. The screening is by invitation only. Mingling and munchies begins at 6:30 p.m. Screening begins at 7:30 p.m. More mingling allowed afterwards - till 10:30 p.m. The theatre is located at 520 North Western Ave. Los Angeles, CA 90004
.
DATELINE: EASTON, PENNSYLVANIA
The Crayola FACTORYŽ at Two Rivers Landing is celebrating its 10th Birthday on July 15! The Crayola FACTORY's 10th Birthday Bash will be officially celebrated from 10 a.m. to 4 p.m. on Saturday, July 15, 2006. This indoor/outdoor celebration will be filled with lots of colorful fun, cool entertainment, and exciting prizes throughout the day. Strolling performers, hourly giveaways, mascot "Tip" visits, as well as live music and dance will all be a part of the big celebration. To help kick off the celebration, Crayola held a contest for inventing a new color crayon to be put in their boxes. Unfortunately, these McCarty entries did not make the final cut.
Kelly came up (in more ways than one) with this unique color after a St. Patrick's party. A combination of green beer and corned beef.
Jerry McCarty tried to capture the nuance
of the city driving in from the northern hills
.
.
Steve McCarty captured this color when Jenna captured
it in her diaper, and on her leg, and on the rug, and....
Brad McCarty's entry derived from 2 years
of employment at the fast food chain.
.
.
DATELINE OAKLAND TOWNSHIP, MICHIGAN
The battle between feuding neighbors Steve McCarty & Tayshaun Prince have hit a new low. What started as a misunderstanding when Tayshaun rejected a Steve McCarty layup on the driveway, then argued the "phantom" foul call by Steve O. That night, Steve launched Flashing Thunder bottle rockets over Tay's house every 15 minutes keeping the newlyweds up all night. Prince the next day invited Ben Wallace over, who immediately smashed McCarty's backboard. (not with a slam dunk, but by throwing one of his patented "brick" free throws). In an unprecedented maneuver, Steve fired back by inviting Jim Seeling over to spend the day. The Piston forward was so incensed with that, that he had his gardener sculpt a bush on the prop-tee line. What will Steve do next???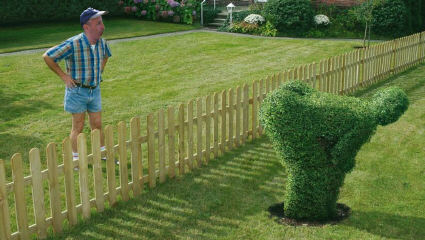 .

.

.

DATELINE LEBANON, TENNESSEE
The wedding nuptials between Cletus Barker and Angel Barker took place outdoors at Larry & Carla McCarty's home in Lebanon. The McCartys also served as best man and matron of honor. Cletus and Angel met as kids while attending their family reunion... and love just blossomed from there. The couple celebrated after the wedding by denting the first car at the Lebanon Demolition Derby, and then spent a night of love at the Highway 27 Motel 6.

| | |
| --- | --- |
| | |
| Larry poses next to Cletus | Carla poses next to Angel |
| . | . |

| | | |
| --- | --- | --- |
| | | |
| The stylish footwear was provided compliments of Pic-Way | True Love! Side Note... The couple painted Larry's garage for the backdrop | Just goes to prove... "There is someone out there for everybody!" |

DATELINE: LAS VEGAS, NEVADA
This may come as a surprise to those of you not living in Las Vegas, but there are more catholic churches than casinos. Not surprisingly, some worshipers at Sunday services will give casino chips rather than cash when the basket is passed. Since they get chips from many different casinos, the churches have devised a method to collect the offerings. The churches send all their collected chips to a nearby Franciscan Monastery for sorting. Then the chips are taken to the casino of origin and cashed in. This is done by the chip monks.
.
You didn't even see it coming, did you?

McCARTY METRO EXCLUSIVE PHOTOS
.
BM
Before Marriage
AM
After Marriage
AD
After Divorce

McCARTY METRO INTERNATIONAL DIVISION
DATELINE: MAGDEBURG, GERMANY
A Water Bridge in Germany.... What a feat! Six years, 500 million euros, 918 meters long... now this is engineering! This is a channel-bridge over the River Elbe and joins the former East and West Germany, as part of the unification project. It is located in the city of Magdeburg, near Berlin. The photo was taken on the day of inauguration. To those who appreciate engineering projects, here's a puzzle for you armchair engineers and physicists. Did that bridge have to be designed to withstand the additional weight of ship and barge traffic, or just the weight of the water? Answer: It only needs to be designed to withstand the weight of the water! Why? A ship always displaces an amount of water that weighs the same as the ship, regardless of how heavily a ship may be loaded.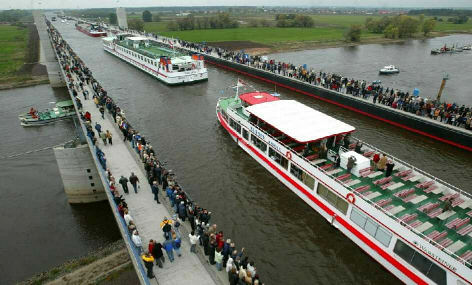 ON THE U.S. SIDE
.
.

DATELINE: NEW YORK CITY
With a year to go before it even touches the water, the Navy's amphibious assault ship USS New York has already made history. It was built with 24 tons of scrap steel from the World Trade Center. USS New York is about 45 percent complete and should be ready for launch in mid-2007. Katrina disrupted construction when it pounded the Gulf Coast last summer, but the 684-foot vessel escaped serious damage, and workers were back at the yard near New Orleans two weeks after the storm. It is the fifth in a new class of warship designed for missions that include special operations against terrorists It will carry a crew of 360 sailors and 700 combat-ready Marines to be delivered ashore by helicopters and assault craft. "It would be fitting if the first mission this ship would go on is to make sure that bin Laden is taken out, his terrorist organization is taken out," said Glenn Clement, a paint foreman. "He came in through the back door and knocked our towers down and (the New York) is coming right through the front door, and we want them to know that." Steel from the World Trade Center was melted down in a foundry in Amite, La., to cast the ship's bow section. When it was poured into the molds on Sept. 9, 2003, "those big rough steelworkers treated it with total reverence," recalled Navy Capt. Kevin Wensing, who was there. "It was a spiritual moment for everybody there." Junior Chavers, foundry operations manager, said that when the trade center steel first arrived, he touched it with his hand and the "hair on my neck stood up." "It had a big meaning to it for all of us," he said. "They knocked us down. They can't keep us down. We're going to be back."


Artists Rendering of the USS New York



The ship's motto? - 'Never Forget'
DATELINE: HOUSTON, TEXAS
This is a picture of a public toilet in Houston: Now that you've seen the outside view on the left, take a look at the inside view on the right... It's made entirely of one-way glass! No one can see you from the outside, but when you are inside it's like sitting in a clear glass box! Now would you... nay... COULD YOU... use it?!
DATELINE: WASHINGTON, DC
Donald Rumsfeld briefed the President this morning. He told Bush that 3 Brazilian soldiers were killed in Iraq. To everyone's amazement, all of the color ran from Bush's face. Then he collapsed onto his desk, head in hands, visibly shaken, almost whimpering. Finally, he composed himself and asked Rumsfeld, "Just exactly how many is a brazillion???!!"
AND FINALLY...
DATELINE: NEW YORK, NEW YORK
Sisters Mary Catherine, Maria Theresa, Katherine Marie, Rose Frances, & Mary Kathleen left the Convent on a trip to St. Patrick's Cathedral in New York City and were sight-seeing on a Tuesday in July. It was hot and humid in town and their traditional garb was making them so uncomfortable. They decided to stop in at Patty McGuire's Pub for a cold soft drink. Patty had recently added some special legs to his barstools which were the talk of the fashionable eastside neighborhood. All 5 Nuns sat up at the bar and were enjoying their Cokes when Monsignor Riley entered the bar through the front door with Father McGinty for a cold drink when they were shocked and almost fainted at what they saw.

We at the McCarty Metro, from time-to-time, like to bring you current news from other publications that might be of interest to our Metro readers. Do you have an article you would like to share? Scan it and attach it in an e-mail, or just send me the url.